---
INSTRUCTIONS*
:
NO payment or purchase is made until I have completed, and you have approved your personalized map. Your personalized map will have a unique product number. PLEASE do not pay for a map in the shop until I provide you with your unique product number or link. ~ Note - See Holiday Shipping deadlines/info Here ~

TO PERSONALIZE A MAP - Use the following Order Forms:
OR send the following details in an email to:

redthreadmaps@hotmail.com

- Child's name as you would like it written (may also include their Chinese name if you wish**);
- Detailed text you would like, including any dates of birth, adoption, city, orphanage name, etc.
PLEASE type the text exactly as you would like it to appear, including punctuation;
- Choice of flag -- simple red flag or Chinese flag - I will put red unless otherwise requested;
- Indicate the SIZE of the map you would like to purchase!
This is important, because each sized map is prepared individually. If you change your mind on size, that is fine, please just let me know asap.
- Please indicate the STYLE of map you prefer - Standard or Fine Art [note: lifebook cutouts are currently available in standard style; all other sizes available as both];
- For the Individual Province map only: Also indicate whether you'd like the "Known Orphanages....for International Adoptions" portion of the title removed or not (will remove unless otherwise requested);
- For the All-China map only: Also indicate the following:
~ Choose a title for your map;
~Please also include the orphange name/city/province, and the city where you
received your child if you'd like it highlighted
~ The text you'd like in the Legend to describe the city where you met (see sample)--
~ If you'd like your flights highlighted, please let me know them in order from city to city, and include the home city/country if you'd like that noted. I will label them 'Journey to [child's name] and 'Home to [home city]' unless otherwise requeted.
- Optional Services [see below]: - please let me know if you have other special requests for your map.
Once I receive your email/order, It will generally take 1 to 2 weeks for me to complete your map (updates on timing are posted on the homepage), and I will ask for any additional information I may need. Then, I create your map!
I will then send you an email confirmation with an attached file showing a close-up of the text, and other 'snippets' (just like the samples on this page) so you can proofread it before ordering; And I will include a direct link to your completed map for purchase and full instructions. You do not pay for the map until you are satisfied with the text and ready to order.
PRICING: DETAILED PRICING CHART CAN BE SEEN BY CLICKING HERE
OPTIONAL SERVICES:
**Chinese characters for child's name -- If you'd also like me to add the Chinese characters for your child's name, there is an additional fee of $5 (for up to 3 characters) per child. Please send me the pinyin and/or English translation for each character along with an image of the characters (can be handwritten) so I can be sure to get it correct. You can send this to me by email or fax.
Sample: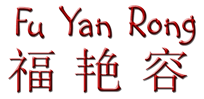 Add Bus trips, cruises, and more:
Did you cruise down the Yangtze river, take a bus trip to the orphanage? Consider adding it to your journey map. These are samples from actual maps I have done for families: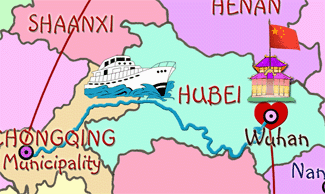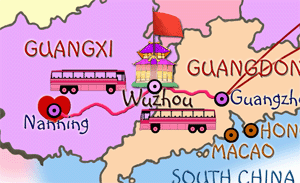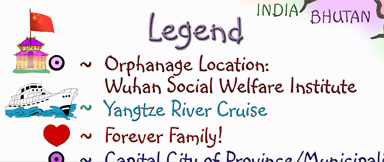 Other Services/Fees - Special Requests / other items added to map:
If you wish to add other items (non-adoption related) to the map, i.e., identify/highlight a tourist spot or other item of interest on the map & legend from your journey, a small fee ($5 ) per item applies. This does not include finding locations - finding locations are added for free.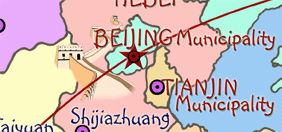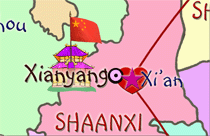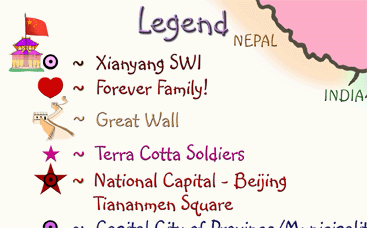 Other Services/Fees - Multiple Siblings:
If you wish to add other siblings and their journeys on the all-China map, a small fee ($10) per additional sibling applies. This includes personalization text, showing the orphanage location, city where you met, highlighting the journey, etc. Additional siblings on a province map is just $5 per additional sibling.
Finding Locations:
This is a FREE service - if you would like to include a special finding location (if applicable) for your child on your map please let me know. If it is a specific town I will do my best to research it to find it and place it on the map for you. I can also include text on the map/legend referring to a particular place if you choose. Contact me for details and I will help you with this.
Note: *'Flights' shown on the all-China map are for artistic purposes only and not actual flight pattern of any airline.
**DISCOUNTS:
If you order more than one size of map with the exact same personalization/style (i.e., a Lifebook size and a larger poster of the same map/style), you receive a total of $10 off ($5 off of each map).
---
FAQ:
Q: 'Does Cafepress or Imagekind add or 'typeset' the personalization on the maps?'
A: NO, they simply print the maps based on files I provide to them. I do all the personalization and other edits to maps on an individual basis, then I upload them and create a special folder in my shop just for you, with a map that will have a unique product number and your child's first name in the product name, so when you add it to your shopping cart you'll be sure you have your map.
Q: 'Where are the personalized maps in your shop - I don't see them?'
A: And you won't unless you order one- because, for people's privacy, and to avoid confusion, I put the personalized maps in a separate shop that only people who order personalized maps are given links to. This separate storefront is also not indexed by search engines, so no one surfing the net will stumble upon your personalized products.
Q: 'Can you mark my child's finding town or location on the map?'
A: YES, I would be happy to do this for you (see sample above). If you have the town name I will do my best to find its general location and add it to the map and mark it for you; or I will work with you to identify it in some other way for you. This is always a free service for families.
Q: 'My child was in foster care and didn't live at the orphanage - how can I get a map for this?'
A: Absolutely, Yes, I have created many maps for families whose children were in foster care. Families often make some reference in their text to the foster care; some include the names of the foster parents, etc. I will work with you to put together something nice - you can have whatever text you like.
If you have any other questions at all, please contact me: redthreadmaps@hotmail.com
---
*POLICY on personalized maps*: Please kindly be prepared to purchase your map within 30 days of completion -- maps left in the shop for longer than 60 days may be removed, unless prior arrangements are made with me. Approximately one hour of time goes into personalizing each map, uploading the files, preparing proofread files and sending emails. I have tried to keep the personalization fee as affordable for people as possible and do not require an advance deposit at this time -- this policy map be subject to change.

*TIMING on personalized maps - Maps are prepared in the order in which they are received. It generally takes between 1 and 2 weeks for your map to be completed from the time I receive your request. I will post updated timing details regularly on the home page. If you need it rushed please let me know.

*Foreign Languages - If you'd like your map legend/scale/title prepared in another language, I will
be happy to do so -- I have French and Dutch translations readily available; for other languages simply
provide me with the text in your preferred language and I will prepare it for you. Of course I will also
do the personalization in any language for you - just provide text with punctuation and accents.

A generous portion of all sales is donated to charity, see the Links page for full details.

All maps are backed by a 30-day money-back Guarantee, and can be shipped worldwide.
Printing & shipping are done by Cafepress (standard) and Imagekind (Fine Art and Canvas) -- see FAQ for more details.